Well, I'm back! Here are today's news AND movies (in another post)...but first I have an ANNOUNCEMENT to make.
Would any of you be interested in Test-Your-Knowledge Tuesdays? Here's how it works: every Tuesday, I will post test-your-knowledge types of questions. Then, you will all post your answers in the comments. The next day, I will post the correct answers. So please answer the two polls on the sidebar!
After seeing the recently-released first pictures for The Hobbit, DanielB asked the Movie Discussion Board posters if anybody remembers the feelings of TORn when we
first
saw pictures of the LotR shoot? Great tales to be told!
The Hobbit Board is still having fun with the
Frame by Frame: Production Video Number 2
launched on us last weekend, and RosieCotton has generously
transcribed
it for us!
Want to experience "
The Siege of Gondor
" or "
The Ride of the Rohirrim
"? There's been some great discussion throughout the Reading Room of those action-packed Chapters from The Lord of the Rings: The Two Towers.
We'll share more topics next week and hope you can join in on the conversation! Don't forget, TheOneRing.net's message boards have over 6,600 registered Tolkien fans, just like yourself! Let your voice be heard.
Actor/writer Stephen Fry, who will be playing
The Master of Laketown
, tweeted only hours ago:
In the middle of giant Hobbit costume session. Beginning to think the fitting will never end. Got bling tho which is uniformly charming x
Hobbit bling? I'm sure the Master of Laketown will look excellent! Brave heart Stephen!
More...
What did you vote for? I voted for
The Lord of the Rings
,
Pirates of the Caribbean
, and in the other box: T
he Lion, the Witch, and the Wardrobe
.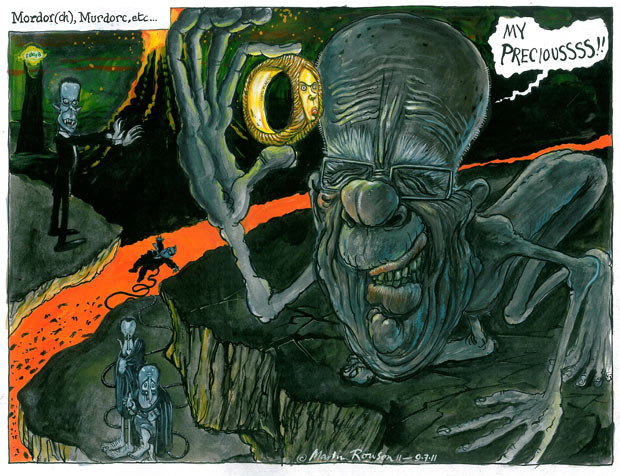 Claire
writes: I don't know how familiar readers outside the UK are with the goings on related to Rupert Murdoch, the News of the World newspaper and his bid for all the shares in satellite broadcaster B Sky B. However, a cartoon on the Guardian newspaper website makes much of Murdoch/Mordor(ch), Murdorc and casts Mr Murdoch as Gollum. The face on the ring is that of Rebekah Brooks, the CEO of News International, part of Mr Murdoch's News Corp, who it seems is being protected at the expense of everyone and everything else.