First, today's news (only one article...sad, I know :( ):
EMPIRE Magazine HOBBIT Cover
And, now...drum roll please...about Tolkien! I promised I would do an article on this amazing author, and now I will! (Just a small summary thing...more information in the links after). Please let me know what you think of this article...would you like me to post more articles like these?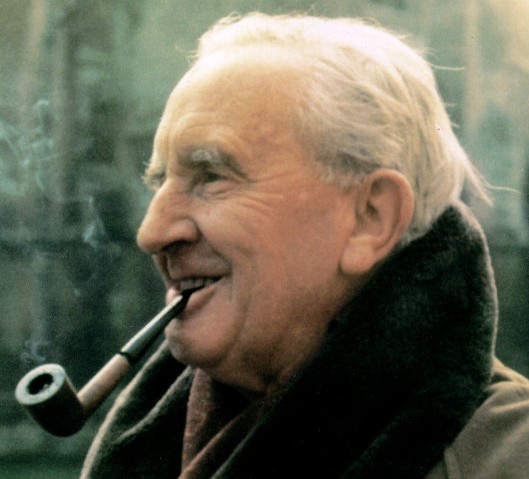 John Ronald Reuel Tolkien
was born on January 3, 1892 in Bloemfontein in the Orange Free State (now Free State Province, part of South Africa). When Tolkien was three, his family took a family visit with his mother and brother to England, but his father died in South Africa before he could join them. The family stayed in England, with family, but poor. His mother became a Catholic in 1900. Four years later, when Tolkien was twelve, his mother also died. Fr. Francis Xavier Morgan of the Birmingham Oratory took care of Tolkien and his brother.
In the summer of 1911, Tolkien went on holiday in Switzerland.
Bilbo
's journey across the Misty Mountains is directly based on his adventures as their party of 12 hiked from Interlaken to Lauterbrunnen and on to camp in the moraines beyond Mürren. In 1916, Tolkien married
Edith Mary Bratt
, who was the inspiration for the character
Lúthien
in
The Silmarillion
. The couple had four children:
John
,
Michael
,
Christopher
, and
Priscilla
.
When World War I began, Tolkien did not immediately enlist, but he eventually came into the fighting (bad phrase, I know). In World War II, he was a codebreaker.
When Tolkien died, he was buried in the same grave as his wife. The engravings read:
Edith Mary Tolkien
Lúthien
1889–1971
John Ronald
Reuel Tolkien
Beren
1892–1973
Wolvercote Cemetery, Oxford
Tolkien was a devout Catholic. He and C.S. Lewis were good friends, and belonged to a writing group called Inklings.